Outsource Your Small Business Financial Management with CustomOne
customonecfo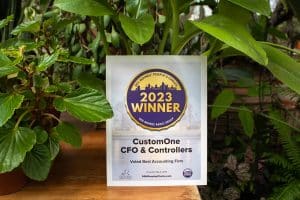 Running a successful business requires more than just a great product or service – it demands efficient financial management. From managing day-to-day transactions to making strategic financial decisions, having a skilled team to handle your outsourced accounting, bookkeeping, and financial planning is essential. This is where CustomOne CFO & Controllers step in to provide top-notch financial services tailored to the unique needs of Des Moines' small businesses.
The Need for Expert Financial Services
As a growing business in Des Moines, you understand the significance of having a solid financial foundation. However, juggling the responsibilities of an accountant, controller, or bookkeeper can be overwhelming, especially as your business expands. That's where CustomOne CFO & Controllers come to the rescue.
1. Need Accountant, Controller, or Bookkeeping Services in Des Moines?
CustomOne offers a comprehensive suite of financial services to meet your specific needs. Whether you require an experienced accountant, a proficient controller, or meticulous bookkeeping services, their team has you covered. By outsourcing these critical financial functions, you can focus on what you do best – growing your business.
2. Strategic CFO Services in Iowa
For businesses aiming to thrive in the competitive landscape of Des Moines and beyond, having a Chief Financial Officer (CFO) on board is a game-changer. CustomOne's Fractional CFO services in Iowa provide a strategic partner who can guide your financial decisions, analyze trends, and create a roadmap for sustained growth. Their experts understand the local market and economic dynamics, enabling them to offer insights tailored to your business's success.
3. Tailored Solutions for Small Businesses in Des Moines
Small businesses are the backbone of Des Moines' economy, and they require specialized financial solutions that cater to their unique challenges and opportunities. CustomOne's small business CFO services in Des Moines ensure that your financial strategies align with your business goals. They work as an extension of your team, offering personalized insights and support that empower you to make informed financial decisions.
4. Expertise You Can Count On
CustomOne CFO & Controllers boasts a team of skilled professionals with extensive experience in finance, accounting, and controllership. They stay updated with the latest industry trends, regulations, and best practices to ensure that your business remains compliant and efficient in its financial operations.
Partner with CustomOne Today
In a fast-paced business landscape, having a dedicated team to handle your financial management is no longer a luxury – it's a necessity. Voted Des Moines' People's Choice for Best Accounting Firm, CustomOne CFO & Controllers understand the unique needs of small businesses in Des Moines and offer services that can be tailored to fit your requirements precisely. From basic bookkeeping to high-level CFO guidance, their experts are prepared to join forces with you on your journey toward financial success.
Don't let financial management bog you down or prevent your business from reaching its true potential. With CustomOne CFO & Controllers in Des Moines, you can take control of your finances, make informed decisions, and pave the way for sustained growth. Get in touch with CustomOne today and experience the difference of having expert financial services at your side.