Why Hiring an Internal Accounting Team May Not Be the Best Idea
customonecfo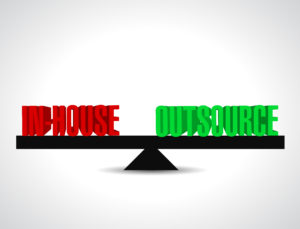 When you own a small business, you dream of the day when your business expands to the point where you have to hire more help. This means you're really on your way! Of course, this also means you have even more to deal with when it comes to your business finances, and unless you have an accounting degree, there's a point where you're going to decide it's time to hire someone to manage the books.
The problem is, what is the best way to do this? Should you hire a full-time accountant or a team? Or should you outsource a Des Moines accounting firm instead? While it might seem obvious that the best course of action is to hire someone full-time, there are several reasons why outsourcing your accounting needs is the better bet:
Outsourcing Means Reducing Fraud
Even though you're going to run background checks and get references and do your due diligence, the fact is that it is still possible to hire someone who uses your money to line their own pockets. Outsourcing with a Des Moines accountant firm like CustomOne CFO & Controllers reduces the chance that this can happen. Why? We bring a team of people who work together while providing an inherent system of checks and balances — the more eyes on your books, the more people keep an eye on each other, which reduces your risk.
Outsourcing Means A Flexible Team
Your business is growing, but do you need someone full-time just yet? Probably not. But as your business continues to grow and change you will find your needs grow and change as well. Depending on the time of year and other factors, you might need more help — and other times, you might need less. Instead of having people on your payroll that you might not need all the time, why not have a team that grows and changes with your needs? An outsourced team provides only the work that's needed right then and there, saving you money.
Outsourcing Means Bringing in Experts
Last — and this might go without saying — but outsourcing with Des Moines accountants means you know you're getting the best of the best. Our trained CPAs are fully licensed and are always on top of the latest rules and codes.
If you'd like to know more about what CustomOne CFO & Controllers can do for you, contact us today!