Treasury and Cash Flow Management Functions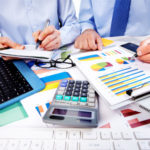 Cash flow is the amount of money coming in to a business and the amount of money going out. Cash inflow is the lifeblood of your business. Positive cash flow is achieved by two things: organization and planning. We provide you our services for preparing cash flow budgets and projections. Poor cash management function is the very much known cause for disruptions in carrying out daily functions like for example making payments to creditors. Our services like accounts payable management, Bank and other reconciliations and accelerating collections on your behalf shall bring a smooth flow in your treasury management function.
We help you in building up some cash reserves for your business to avoid cash flow issues. We review your cash flow history and give you a reserves estimate that would cover your business for three months, six months, and a year. Just knowing those numbers can help you draw a better picture and, thus, make better business decisions.
Our accountants have expertise to deal with a range of cash issues:
We ensure that sufficient cash is available for investment by not tying up cash in stock unnecessarily.
We put procedures in place for following up outstanding debts
We exercise control on different levels of cash outflows in relation to the size of the business.
Cash flow is always important, but especially when it is not easy to obtain credit. We establish for you new lines of credit and negotiate terms with creditors or lessors on your behalf. We also offer to develop you customer credit policies suiting your business according to its nature and industry.
Our treasury and cash management services include the following:
Preparing cash flow projections and cash flow plans/budget
Negotiating terms with creditors/lessors
Establishing/managing lines of credit
Monitoring payroll tax compliance
Projecting excess working capital for investing
Timing and control of payables
Developing customer credit terms and policies
Bank and other reconciliations
Accelerating collections