The Controversial Guide to Accounting Services for Small Businesses' Cost and Value to You
customonecfo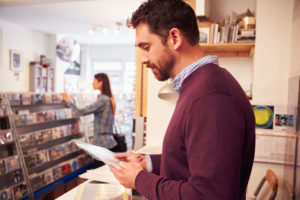 As you toil over your small business books, are you tempted to hire a Des Moines accountant to take the pain away? Most small business owners lack the time or skills to keep business records well. It's understandable – you simply have a lot to do. The cost of hiring out your accounting services may offer you more value than you know.
Take a look…
The Value A Des Moines Accountant Adds
Small business accounting services come to your rescue in several ways. First, they help you get your business set up right. A knowledge of business structures, business plans, accounting software, banking and record keeping falls in their wheelhouse. They ensure a solid financial foundation to build a successful business.
Second, a Des Moines CPA helps maintain your accounting system. They come to you as an ally in understanding financial statements, plus overseeing payroll and taxes. And finally, small business accountants counsel you through growth. Business budgets, financial forecasts and more help you maintain fiscal health as you expand.
Factors in Des Moines Accounting Service Costs
Getting estimates from several Des Moines accounting firms reveals diverse pricing. Part of this disparity comes from the variety of services accountants offer. To make sense of it, identify the services you need and ensure the quotes reflect these needs. When looking at cost estimates, keep in mind the dollar value is based on…
– Competition: Firms price services comparable to their competitors.
– Reputation: The better the reputation, likely, the higher the cost.
– Type of service: For example, bookkeeping costs differ from yearly consult fees.
Value vs. Cost of a Des Moines CPA
A firm's level of experience plays a major role in analyzing the cost and value of their services for your small business. A small firm may tempt you with a reasonable price. But, remember, any mistake or missed opportunity in your numbers costs you — often more than hiring an experienced firm.
Changing regulations, confusing paperwork requirements, compliance issues and tax code frustrate small business owners. Experienced accountants relieve the headaches and open up time to tackle other business tasks.
Tax reporting, payroll, bookkeeping and record keeping require expertise. DIY solutions or inexperienced accountants miss the mark. Finding a Des Moines accountant who fits your budget and meets your financial needs proves to be the best value for you.
Contact CustomOne CFO & Controllers today for a free quote.