Financial Planning and Analysis Functions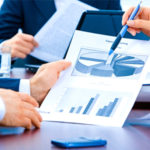 Financial planning means deciding in advance how much to spend, on what to spend according to the funds at your disposal. Good financial forecasting, businesses can help reduce business risks. Simply put, we create for you a financial plan or budget outlining your projected income and expenses for your future business outcome.
Whether your business is in the startup process or continued, our experienced professionals help you in in preparing financial forecasts that are both achievable yet still challenging. We demonstrate the financial viability of your new business. We perform an analysis for you to easily understand the actual financial operation of the business as compared to the forecast financial plan. This analysis will not only guide you to a right direction by seeing a bigger picture but also help you set long term goals for your business thus helping you build a financial future.
We help you evaluate risks faced by your business and identify cash shortfalls to keep your business out of liquidity crisis. We keep a track of your treasury of the realized surplus available in your treasury. We provide you with an estimate of future cash needs and whether additional private equity or borrowing is necessary.
Our financial planning and analysis function include:
Establishing budgeting methods and procedures
Preparing budget and forecasts
Analyzing cost-volume profit (break-even) structure
Analyzing budget variances
Analyzing and planning product service pricing
Evaluating new product/service profitability
Investigating merger/acquisition candidates