Benefits Abound for Outsourcing Bookkeeping to a Des Moines Accounting Service
customonecfo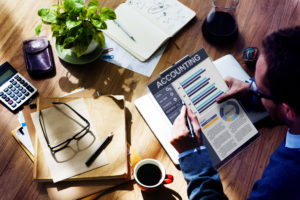 One of the fastest growing trends in the world of business these days centers around the utilization of outsourced bookkeeping and accounting services, and it is a trend that has been proven to be far sexier than one might imagine. And it's a trend currently catching fire here in the Des Moines Region, especially with small and medium-sized businesses. It all has to do with staying ahead in regards to business finances, an endeavor that often determines the ultimate success or failure of a business enterprise. The reason is that while financial services are a vital component of any business, staying on top of them requires a tremendous expenditure of resources and capital.
The High Cost of Managing Your Business Finances
Whether it be managing accounting functions like monthly accounts payable and receivables, or your payroll system, it takes a combination of personnel, training and computer hardware and software to get the job done in a manner that benefits the company. Maintaining an in-house accounting team to manage the operational finances of a company can be both time-consuming and costly. As business revenues grow, your accounting team will likely need to hire additional personnel. In addition to this increase in manpower, there is additional training, equipment, and infrastructure costs that will also likely occur. As a result, far-thinking business owners are looking ever more closely at outsourcing their business bookkeeping and accounting functions to a third party firm that specializes in providing your business with professional and dependable accounting services. Let's look at the benefits of such a move.
Benefits of Outsourcing Financial Operations to a Des Moines Accounting Service
Aside from being one of the surest ways to reduce the overhead costs of a business, the benefits to be reaped are considerable and likely to open doors into managerial efficiency sure to help the bottom line.
Increased efficiency

. Business owners who have made the move to outsourcing their accounting operations are able to focus more of their attention on generating increased revenues while also improving their products and services. The best part of this is that, in the hands of a reputable Des Moines accounting service, this can be accomplished without the need for concern about the complexities and burdens of bookkeeping.

Increased financial freedom

. Without having to worry about your company's bookkeeping functions, the business owner and managers are able to more directly impact their bottom line by concentrating on key staffing requirements in those areas of the business that is able to be directed towards more enhanced operations and profitability.
What about you and your Des Moines business? Have you ever seriously considered the benefits of outsourcing your bookkeeping and financial operations to a Des Moines accounting service? If so, then be certain to have a conversation with
CustomOne CFO & Controllers
as they are the recognized leaders in assisting businesses with all aspects of the outsourcing process. For a confidential and free consultation
use this link to contact
CustomOne CFO & Controllers today.