Agribusiness and Food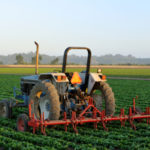 Agribusiness professionals continually face new and complex challenges like Shifting tax legislation, variable commodity prices, fluctuating economic conditions, and extreme weather. Traditional business planning in the sector is becoming increasingly difficult. In an increasingly competitive marketplace in agribusiness sector, it's crucial for the entrepreneurs to maximize efficiency, minimize waste, reduce tax exposure, and plan strategically for the future.
We offer help to enable you to effectively manage your business. We have a deep understanding of the key legislative, environmental, safety, and international issues facing your business. We use our knowledge of the entire supply chain—from grower to consumer and all points in between. Our expert team of CPAs gives you industry-specific solutions that help you achieve your objectives. We proudly say that this level of specialization and concentration is a major reason so many agribusinesses choose CustomOne CFO & Controllers.
We have developed excellent bank, legal, insurance and other service provider relationships that allows us to take a deep approach to quickly and efficiently resolve your agribusiness needs. We offer the financial guidance needed to simplify your accounting procedures. We maintain cash flows that result in a higher bottom line. We devise for you strategies that are comprehensive and focused on the achievement of long term goals of your business.