Accounting and Financial Statements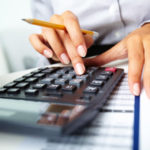 Accounting is the language of any business. Proper bookkeeping and timely financial statements are an important segment of a successful business. Since it is a routine activity, we help you carry out day-to-day activities efficiently. No organization can afford delays in these services leading to disruption in data management. Our purpose is to provide you timely and accurate financial information for you to make better business decisions. Using the information and reports created by us, we enable you to draft your business goals and also evaluate your performance.
Four major values in accounting are planning, communicating, controlling and profit determination. Our detailed and well drafted information will not only be a source for communication the current status of your business but also project the future plans for management. Our management accounting services help you keep your business running while our financial accounting services tell you how well you're running it.
We offer a wide range of services in performing your accountancy function. Our team of CPAs will help you in organizing your data and presenting complete set of financial statements on a monthly, quarterly and annual basis. We also can provide you monthly management reports as required by you. We help you in budgeting and presenting you reports on analysis of budgets and actual expenses. This function is useful for excess cost cutting in your business. We have expertise in Accounts Receivables management and related tasks like aging analysis etc.
Our Accounting and Financial Statement services include the following:
Prepare timely internal monthly financial statements
Prepare cash flow projections
Compilation of annual budget
Bookkeeping services including payroll processing
Compare actual financial performance to budget on a monthly basis
Prepare sales and commission reports
Customized management reports including inventory turnover, accounts receivable aging and days outstanding
Product line profit contribution analysis
Accounting software selection & implementation