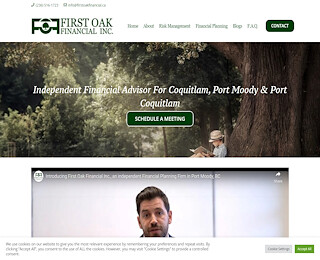 At Contact First Oak Financial Inc., we aim to provide comprehensive investment management and financial planning solutions in Port Moody, Canada. But some of our Port Moody clients asked us questions about our financial planning services. In this post, we've decided to answer some of the most frequently asked questions. 
If you have any more questions or you'd like to speak to one of our financial planning experts, please call us today at 604-761-7543.
What is your financial planning process?
Our financial planning process involves a thorough review of your financial situation and a plan that shows you how to achieve your financial success. At First Oak Financial Inc., our Port Moody financial planning process consists of several steps focusing on your financial goals. 
Are you an independent financial planner?
Yes. We are an independent and registered financial planner in Port Moody. We can provide the best services with few restrictions.
What type of clients do you work with?
We can work with individuals who are serious about achieving their financial goals. Some are single. Some are married. Some are about to get married. Some are retired. We help them maximize their financial potential to the fullest.
Who can benefit from your financial planning services?
Anyone seeking peace of mind can benefit from our financial planning services. We provide financial services to clients from all levels of income. Our financial planning services include:
Budget: We can help you reduce debt or save more.
Retirement: We strive to combat risk and offering the peace of mind needed for an enjoyable retirement. 
Estate Planning: We can help you arrange your asset tax in the event something was to happen. We aim to ensure your wishes are met.
Insurance: We are fully licensed health and life insurance broker. We'll help you get an insurance plan in Port Moody that fits your needs.
Special Goals: We can help you plan your financial goal to finance a new home, gift, special trip, or other goals.
Financial Check-Ups: We check your finance and see if you're making progress and make any required changes. 
What makes your company different from other financial planning in Port Moody?
We work with individuals concerned about the "big picture," not just the return on investments or the amount of accumulated wealth. Our passion is to help individuals better plan for what lies ahead. We are committed to helping all our clients meet their financial goals. We have the experience needed to help take you to the next level. 
What is the cost of my financial plan?
Your financial planning cost will depend on your situation and specific needs. At First Oak Financial Inc., we'll give you an estimate after the initial consultation meeting.
What aspects of my financial life can you assist?
All aspects of your financial life. We will be discussed this in the course of our meetings.
How can I get started with your financial planning service?
The first step is requesting a consultation. Call us today at 604-761-7543 for the best full-service financial planning Port Moody. 
First Oak Financial
604-761-7543
#1900 1500 W Georgia St
Vancouver
BC
V6G 2Z6
CA